The Legend of the Great Auk is being seen by audiences at great festivals in Pasadena,  San Francisco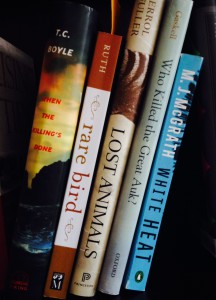 , Missoula and Frederick, MD in early 2016. We're excited!
I've read some books lately that reference our spectacular seabirds known as alcids or auks.
Seabirds are part the landscape in a set of very cool detective novels, The Edie Kiglatuk Mystery Series, featuring a female Inuit protagonist, a reluctant noir-ish hero with braids. I read the first in the series, White Heat. It's fun to read something that feature our alcids and other seabirds as backdrop. Describing Graham Island, Nunavut (Canadian Arctic): "In the winter, there was good ice fishing to be had here and in the summer, there were murres, kittiwakes and doviekies nested along the low, blunt cliffs, eiders bred among the finger willows and caribou came down to drink at the spillways." I was hooked. There are three books in the series so far.
Rare Bird: Pursuing the Mystery of the Marbled Murrelet –- Maria Mudd Ruth writes a detective story-like inquiry into marbled murrelets: elusive, tiny and secretive seabirds that nest in giant, not so secretive, Pacific Northwest old-growth trees. Marbled murrelets are rare among the two dozen alcid species because that they next in these spectacular trees. She highlights what was, until the 1970s, the persistent the mystery of its nesting habitat — one of the last species of all North American birds whose nesting habits were discovered –- and addresses the legal and regulatory issues that that dog these birds and their habitat. Check out this interview with the author from C-SPAN.
The venerable writer T.C Boyle tackles conservation and the different versions of "animal rights" in his 2011 book When the Killing's Done, set in southern California's Channel Islands, home to one of the rarer alcids the Scripp's murrelet, among other creatures both native and invasive. Barbara Kingsolver wrote a review for the New York Times.
For our NEXT film – we just had our actors in to record their parts at Jack Straw Cultural Center in Seattle. We're doing a mock 1950s game show, with an animated all-bird cast. Based in part on What's My Line, the long-running and pretty darn erudite panel show, our version, Whaaaat's My Family!? showcases several curious blindfolded birds trying to guess who the special bird guest is. There will be a pretty black-and-white palette, befitting the era, mixed with some surprising colors.